Stop the Scoot! These tasty treats help support your dog's Healthy Anal Gland function.
PawMedica stop scooting chews are a hassle-free way to help support your dog's anal glands. These no scoot tasty dog fiber bites help support your dog's natural bowel movements so that you won't have him or her scooting their butt across the floor!
ORDER ON AMAZON TODAY FOR SPECIAL PRICING!
Stop Scooting+ Supports:
Healthy dog digestion

Anal gland function and release
Regular bathroom cycles

Prebiotic Chews recommended for:
Dogs who occasionally, or regularly scoot their butt

Dogs with digestive issues
Dogs of all ages
Full range of small dogs and large dogs
Dogs, just like humans, experience constipation and irregular bowel movements. The most common signs of dog discomfort are dragging posterior on the ground or floor, licking or biting at the anus, having difficulty sitting comfortably, or chasing the tail. Our dog scoot chews will help support your dog's regular dog bowel movements.
PawMedica's Stop Scooting chews support your pup's digestion with premium ingredients:
Psyllium Husk

Pumpkin Extract

Dandelion root

Beet Pulp

Fiber
The PawMedica Promise:
We are a proud member of the NASC (National Animal Supplement Council). This means we pursue every avenue possible to ensure your pet receives a safe, quality product that works.
Every ingredient received and every finished product produced, goes to an independent lab to test for Salmonella, E.Coli, total plate count, yeast, mold, and ensure overall quality standards.
Not derived from dairy or soy
Non GMO
Made in USA in a FDA registered facility
GMP approved manufacturing standards
Customer Reviews
12/03/2021
George C.

United States
Healthy god chewy
I got this canine joint chews for my dogs. They're 10 years old, so I can notice they're aging going. I'm excited to give them these chews. If you have dogs like me you should get them there well being chews. https://www.pawmedica.com/products/stop-scooting-for-dogs?variant=39777104822326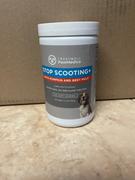 12/02/2021
Wendy

United States
Worked immediately!
This is the greatest additive to my dog's organic and home made dog food. The idea behind the product is that you add a pinch or two of it to the dog's regular food, which firms up the ****. They seem to go down easy.
12/02/2021
Maria

United States
Works well for my pup
My pup started scooting more as he got older. His vet recommended a diet high in fiber and I got him these treats in addition. So far the results have been amazing. I haven't seen him scoot at all! I'm very impressed and will continue to give him these treats. He loves the flavor too by the way. A lot!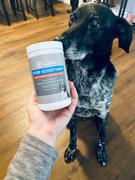 12/01/2021
Sara

United States
Excellent
I have seen a huge difference since starting my dog on these. He very rarely scoots. He used to almost everyday and now i rarely see him scoot.