Our focus is simple. Canine joint health.
The optimal choice - inclusive of Hemp and Glucosamine. There's a reason we're the best joint & mobility supplement for dogs. It's our specialty. We've carefully researched the perfect formula for help support your dog's joints and overall mobility. We cut no corners in delivering a top quality product for your pet. 
PawMedica Joint Soft Chews are Recommended for:
Aging dogs with joint issues
All dog breeds and ages looking to maintain healthy joint function
Canines recovering from nagging injuries
Joint Soft Chew Benefits:
Promote Dog Mobility*

Support Joint Flexibility*
Promote Muscle Health*
Promote Joint Relief*
Support Healthy Glucosamine levels*
The PawMedica Promise:
Every ingredient received and every finished product produced, goes to an independent lab to test for Salmonella, E.Coli, total plate count, yeast, mold, and ensure overall quality standards.
Not derived from dairy or soy
Non GMO
Made in USA in a FDA registered facility
GMP approved manufacturing standards
No fillers or unnecessary ingredients
Made with natural ingredients
PawMedica's transparent ingredient list. A formula designed to maximize pet mobility:
Glucosamine
Organic Hemp Seed Oil
Chondroitin Sulfate
MSM
Organic Turmeric Root Powder
Dried Yucca Schidegera Extract
Egg Shell Meal
Vitamin E (D-Alpha Tocopherol)
satisfaction guaranteed! order with confidence, knowing that all orders are backed by 110% money back guarantee. no questions asked. That's right, we're so confident in our joint health soft chews that we're willing to pay you if you decide to return the product (free shipping on returns too).
Beyond ingredients, Flavor matters:
We avoided synthetic flavoring in our glucosamine chews. We use natural flavored Chicken and Duck formulate, which was safely blind taste tested by dogs to ensure a flavor your dog will love.
Frequently asked joint supplement questions:
Q: How many soft chews come in a bottle?
A: 120 chews come in every bottle.
Q: How many soft chews come in a bottle?
A: The daily number of joint care chews to give your dog varies by the size of the breed. We have a helpful guide in this picture.
Q: Is this safe for a cat to use?
A: No, the dog mobility supplements are specifically formulated for canines. These should not be taken by any other pets.
Q: Where is it Made?
A: Made in the USA, in an FDA registered facility.
Q: Does this Hemp supplement contain THC?
A: No, there is no THC in this supplement.
Q: What flavor are the dog mobility chews?
A: Formulated with Natural Chicken and Duck flavoring. No synthetic flavoring used. Blind taste tested to ensure the soft chews are not just good for your dog, but they taste good too!
Please note: Your dog's veterinarian is your best ally in making decisions on your pet's health. If your pet has any condition that requires medical attention, you should always consult your veterinarian.
View our full list of frequently asked questions

Customer Reviews
10/22/2020
Connie C.
United States
So far so good!
My dog is suffering from her back legs that are atrophing. This seems to be working. I hope it continues.❤
10/18/2020
Rayna H.
United States
Old man is a boy again
Milo is a 10 yr old pound puppy with severe hip dysplasia. He somehow managed to rupture his Right ACL, which required surgery and placement of a metal appliance to secure the knee. Well the old sedentary guy needed a boost to get going. I saw an advertisement for Mobility and decided to give it a try. To make a long story short, he became a playful pooch again, so much so that the appliance in his knee came through the skin and now requires surgery to have it removed. He runs and plays with our 5 year old Sydney. You would never know he had virtually no hip joints. It is so wonderful to see him enjoying life again. Thanks to Mobility!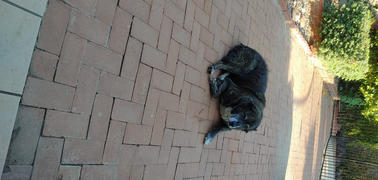 10/17/2020
Alexia G.
United States
I love it !!
My dogs love the taste and smell, super yummy with many benefits for my babies! Great product!
10/15/2020
Jill D.
United States
Lifesaver!
Our senior dog was not eating much because of teeth issues and joint problems. These were the only thing she liked and would eat! The smell and flavor were appetizing to her and they easily broke apart for soft chewing. I was so happy that I was able to give her something natural to help her feel more mobile.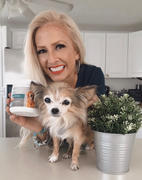 10/12/2020
KATHLEEN G.
United States
Nice product and my dog thinks it tastes great
I like that this joint supplements are chewable - super easy to just put on top of my dog's food.