Salmon Omega Chews. Let's keep your dog happy in their skin & coat.
Unlock the power of Salmon Oil with Omega Vitamins for your Dog. Trustwell PawMedica cuts no corners when it comes to delivering top quality supplements.
Our pride is in our name - we're a brand that you can trust. Salmon Oil supplements are a great way to nourish your dogs skin and coat. Help your dog's itchy skin by moisturizing from the inside out with Omega 3s and Omega 6s.
Fuel your dog's body with Healthy Omega 3s and 6s. Inclusive of DHA and EPA from Salmon Oil.
Omega+ Helps Support:
Healthy Skin & Coat*
Anti-Itching & Healthy Skin*
Brain, Immune System, and Heart Health*
Anti-Itching*

Healthy Hip & Joint Function*
Salmon Oil Omega Chews are Recommended for:
Dogs with dry, itchy skin

Dogs with irregular shedding

Senior dogs 

Any dog older than 6 months to maintain proper function
The PawMedica Promise:
Every ingredient received and every finished product produced, goes to an independent lab to test for Salmonella, E.Coli, total plate count, yeast, mold, and ensure overall quality standards.
Not derived from dairy or soy
Non GMO
Made in USA in a FDA registered facility
GMP approved manufacturing standards
satisfaction guaranteed! order with confidence, knowing that all orders are backed by 100% money back guarantee. no questions asked.
Customer Reviews
05/16/2021
Marilyn P.

United States
Omega plus
It works well with 2 of my dogs. The 3rd dog can't take it. He had a anxiety reaction to it.
05/09/2021
Karen B.

United States
Going on 3months
Just purchased a 3 pack! We've been using this for about 3 months now and love it. Her coat is soft and shiny, and she doesn't chew on her feet anymore so it helps her sensitive skin too!
04/27/2021
Trisha S.

United States
Smooth, silky coat
My poor dog struggles with seasonal allergies that negatively affect his skin leaving him, red, raw, and itchy. He scratches til he makes sores, leaving bald patches. Salmon oil is supposed to be good to help with this, but he has never tolerated it without vomiting. Luckily these chews give him the skin care nutrients he needs without upsetting his tummy. As long as he takes these regularly he has no problems with dry skin that leads to itching. He currently has a soft, silky coat that looks healthy. Great stuff!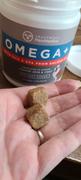 04/23/2021
carl h.

United States
I think the products I received are working very well.
04/23/2021
Janette M.

United States
Olaf approved!
Olaf loves these "treats" i love that they are .aking his fur healthier and hes shedding less and itching less, he thinks they taste great and they smellgood!